Snow Alligator Gar
Snow Alligator Gar - Atractosteus spatula - プラチナアリゲーターガー is a common freshwater fish in North America. Its platinum variety was bred in Asia for aquarium keepers. It is unfortunately rare and expensive fish, it is very demanded in Japan and China and it results to subsequently increase of the price.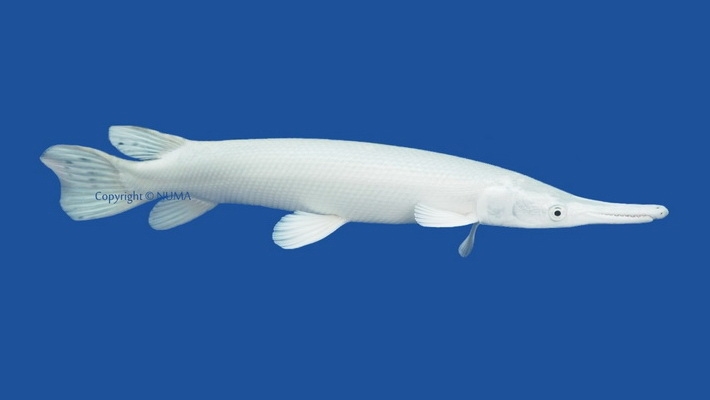 Alligator gar is the freshwater fish suitable only for big aquariums. On the other side, it is modest and very adaptable fish for different water`s parameters. No doubt - it is one of the most expensive and rarest fish nowadays.
Gar`s species
There are two basic gar`s genus: Lepisosteus and Atractosteus, each contains different species according to appearance or place of occurrence.
| | | | |
| --- | --- | --- | --- |
| Lepisosteus | | Max. length | Max. weight |
| Lepisosteus oculatus | Spotted Gar | 0.90 m | 3.00 kg |
| Lepisosteus osseus | Longnose Gar | 1.80 m | 25.00 kg |
| Lepisosteus platostomus | Shortnose Gar | 0.90 m | 3.00 kg |
| Lepisosteus platyrhincus | Florida Gar | 1.30 m | 5.00 kg |
| | | | |
| Atractosteus | | | |
| Atractosteus tropicus | Tropical Gar | 1.25 m | 3.00 kg |
| Atractosteus tristoechus | Cuban Gar | 2.00 m | 75.00 kg |
| Atractosteus spatula | Alligator Gar | 3.00 m | 150.00 kg |
Because I keep Platinum Alligator Gar in my mega aquarium, this article is only dedicated to Atractosteus spatula species.
Platinum Alligator Gar is referred to as "primitive fishes", or "living fossils" and it can breathe both air and water. There should be left with a few inches of space at the top of the tank to allow them to breathe atmospheric air. Platinum alligator gar can grow up to 60 inches. It does not have scales like other fish, but it has got hard, white enamel-like, jagged diamond-shaped ganoid scales. Crown of the head and gills cover are grace damask shape`s drawings. Mature alligator gars have a dual row of large sharp teeth in the upper jaw which they use for impaling and holding its prey.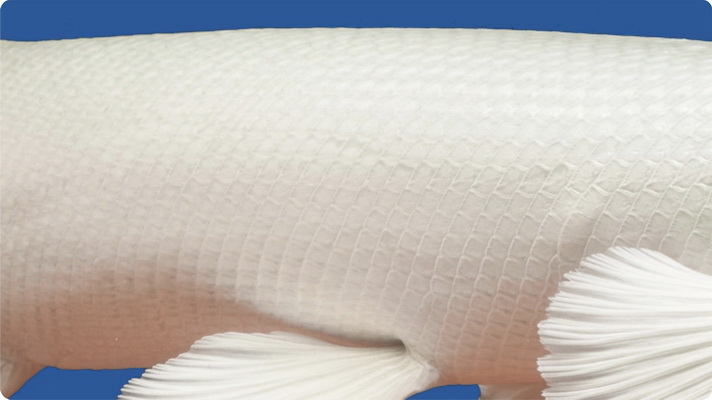 Special platinum alligator gar`s scales
Breeding condition
Alligator gar is undemanding for pH (6.0-8.0), hardness (90-450 ppm) or temperature (59ºF - 89 ºF). So it tolerates unusual wide parameter`s range.
Gars are not territorial or aggressive in the aquarium if they grow together with other fish species, then gars do not consider other fish as food.
Gars accept meaty frozen foods such as fish, prawns, shrimps, etc. in the tank. Individual can accept pellets. Gars should never be fed with the meat of mammals such as beef heart or chicken as some of the lipids and other organic compounds in these meats cannot be properly metabolized by fish, causing excess fat deposition and even organ degeneration over the long term.
Size and growth
Alligator gar can live for many decades and the fact it can live for well in excess of 50 years. Alligator gar are slow to mature. They usually don't spawn until they are about 10 years old. Spawning typically takes place in shallow areas of flooded vegetation. The roes are highly poisonous to many animals, including humans and birds. Incubation is 48-72 hours and post-hatching the larvae remain attached to submerged surfaces for 5-10 days, until the yolk sac is completely absorbed.
Growth rate is initially rapid and juveniles may measure 9 – 11 inch after the first year, but growth slows with age. In general, for every additional 10 inch the fish grows, its age doubles. A 35 inch gar is typically about 4 years old, a 47 inch gar about 8, and 80 inch gar might be 40 years old.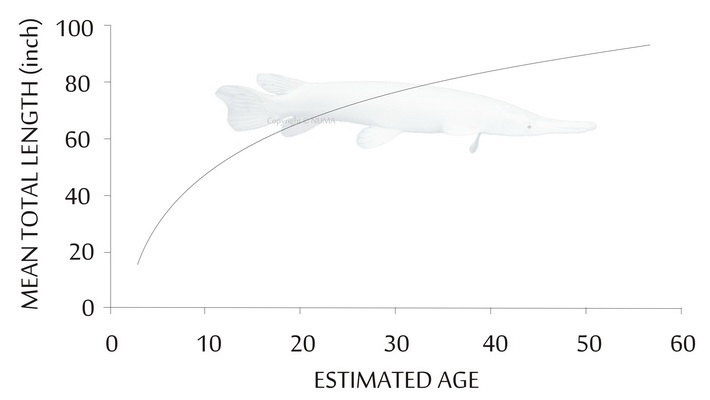 Graph of average Platinum Alligator Gar`s growth
Conclusion
Snow Alligator Gar is doubtless beautiful fish, which demands a big tank, huge filtration system and high-quality food.
I'm afraid the price is so high to allow the spread among ardent aquarium hobbyist. If in the course of time demands from Asia drops and at the same time there will be more and more platinum gars in offer maybe the price would come down. The platinum gar`s price is inaccessible for this time.
Text and photo: Ing. Dalibor Katreniak, NUMA s.r.o.
Photogallery