Mega Tank
NUMA company offers realisation of mega aquarium. We are experienced 20 years in this field. That`s the reason why we can satisfy most exacting clients.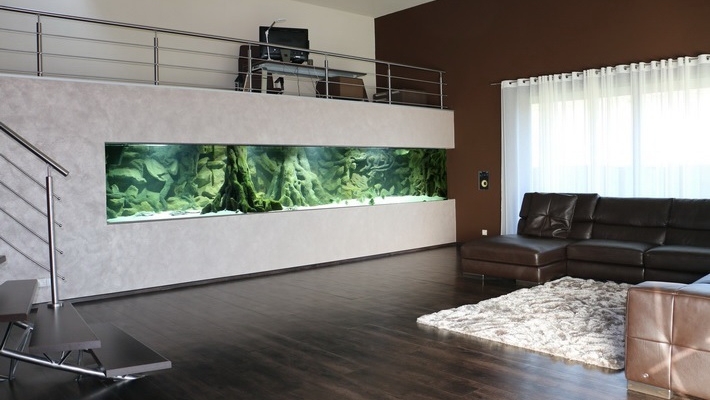 You will find pictures of big aquarium in NUMA residence /see gallery below/. Aquarium is built from reinforcement waterproof concrete. Dimensions are 600x170 cm (236x67 inch) and there is 100 cm (39 inch) water level. Tank volume is 10.000 litres (2650 gallons). Front glass panel has 3,8 cm (1.5 inch) thickness with weight 580 kilos. The Seneye Home constantly takes care of monitoring aquarium`s water parameters. Heating of 10m³ water for 28,5°C provides heating pump Vitocal 242-S with support of solar collectors Vitosol 300-T via heat-exchanger. There is aquarium`s light - PAR38 Planted Aquarium LED.
There are 5 freshwater stingrays Leopoldi Black Diamond Sao Felix (Potamotrygon Leopoldi), 14 pieces of Disk pacu (Myleus schomburgkii Widebar Blue Hook), Asian arowana Premium High Gold Crossback (Scleropages legendrei) and Platinum Alligator Gar (Atractosteus spatula) in the aquarium.
Photogallery