Japanese KOI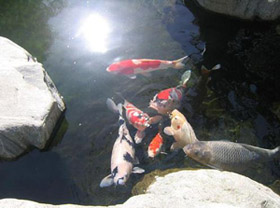 Koi fish (in Japanese language Nishikigoi) are also called the kings of garden ponds. They originated by mutation of the classical carps 200 years ago in Nigata. In these days it is possible to see a garden pond almost in every japanese garden, in which their owners keep different types of colourful koi fish. Those who take bigger interest into these colourful fish will understand in a short time the growing fascination of their owners. If the keeping of the koi fish is good - in adequat and qualitative big pond, water koi fish can reach the length around one metre and age even about 70 years. The ideal temperatue of the water is around 20 degrees celsius. It is very important to feed them with the high qualified food, which consistance is suitable for the year seasons and can optimilize the growth of the fish and eliminate pollution of water improper digestion.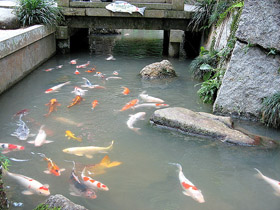 Koi fish need for digestion large amount of oxygen from water that is why it is necessary to think and keep certain rules by the realization and placing of the pond. Generally we devide the koi fish into 13 groups, that are accepted by most of the clubs´ keepers of Koi fish. Basic variants are called : Kohaku (dichromic –bright white base with bright red marks), Taisho-Sanke (trichromatic - bright white base with red and black), Showa (trichromatic – black base with the red and white marks), Bekko (dichromic – white, red or yellow base with the black marks), Utsurimono (dichromic – black base with white, red or yellow marks), Asagi/Shusui (blue back with red colour on their cheeks, sides and fins. As the koi fish contaminate water more than any other fish it is important to take into account suitable dimension of the filtration..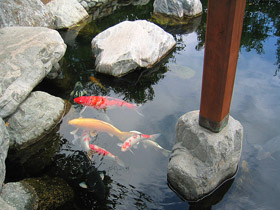 Shusui is bare form of Asagi), Koromo (only on the red signs are the shapes of the shade ink, Kawarimono (includes all unmetallic variants that are not possible to put into the rest twelve categories), Hikarimono (metallic monochromic), Hikari-Utsurimo (metallic showa and utsuri), Hikarimoyo-Mono (metallic koi with more than one colour ), Tancho (between its eyes on its head is a red, round mark and Kinginrin (kohaku with pearl scales ).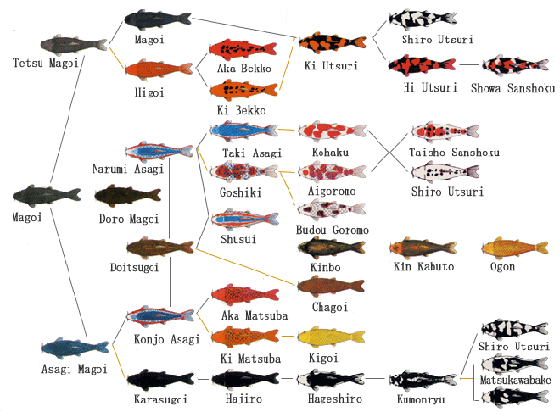 The Variety of the Japanese KOI fish
Photogallery