Biocarrier Helix Flakes 14 liter
Code: SB484_1
Availability:

In Stock

The Biocarrier Helix Flakes is a new development in (moving bed) filter media. The Biocarrier Helix Flakes have their origin in the professional waste water treatment, but they have been further developed for usage in ponds. The green chip has a diameter of 18-20mm and is 1mm thick. The unique surface structure has a specific surface area for bacteria of 3250m2/m3- what is in average 4-6 times bigger than traditional bio-rings. As a result you need less of these chips than traditional bio rings. The Eco pondchips are made of recycled HDPE. The chips are very light, so you don´t need much energy to move them (by air and/or water). This can significantly reduce the energy costs of air pumps. Eco Pondchips come in bag with 100 litres of chips.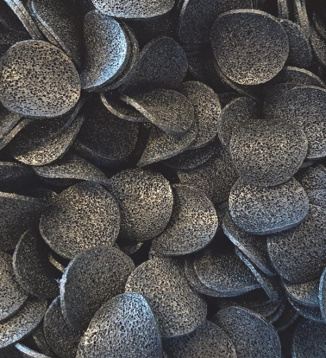 Related products
Expert know how and original Hel -X biomedia provides for reliable nutrient reduction in the filter. Extremely large protected settlement surface for microorganisms – 40% more than Kaldnes K1: Hel-X 704m²/1000l | Kaldnes K1 500m²/1000l. Biological filter surface protected 35,5 m². Innovative Bypass technology enables optimal movement of the Hel-X media even with high flow rates. Efficient removal of toxins like ammonium, ammonia and nitrites. Pre installed diffuser for optimal oxygen enrichment and turbulence. For use with AquaOxy air pumps.

1 411,72 €

Detail

Specially formulated for all biological (bead) filters. Like most types of mechanical/biological filters, bead filters rely on the use of a media that provides a high surface area/volume ratio. This allows for support of the necessary amount of biomass, in the form of a biofilm, to properly remove organic and inorganic waste from the water. Within the biofilm it is possible to carry out aerobic, facultative anaerobic, anaerobic and chemosynthetic processes. Microbe-Lift® Super Start contains all these bacteria capable of carrying out all of the necessary processes for optimum performance of bead filters.

34,50 €

Detail

Screened pipe with connector Ř110mm in and outlet with screened pipe (perforation 9 x 11mm) to keep the moving bed media inside.

79,50 €

Detail
Ask for products
Would you like to have more information about the product "Biocarrier Helix Flakes 14 liter"?
In this case fill in this form and we will be glad to answer on all your questions.
Find a better price?
Have you found better price on net than in our e-shop?
If yes, fill in this form. After our employee check that price we will give you information about the better price through your e-mail or phone. Otherwise we believe it is not only the price but also our approach to you and willingness to help you what makes the business important as well. We try to do our best to be professionals and to find better prices.
Comments (0)
No comment was added to this product.
Comments can be given only if you are the registered user.
Send my friend