Deep Angelfish
Code: ALT01
Availability:

out of stock

Pterophyllum altum, also referred to as the Altum Angelfish, Deep Angelfish, or Orinoco Angelfish, occurs strictly in the Orinoco River Basin and the Upper Rio Negro watershed in Southern Venezuela, Southeastern Colombia and extreme Northern Brazil. The species is the largest and rarest of the genus and specimens exceeding 50 cm in height (from tip of dorsal to tip of anal fin) have been reported in the wild; in aquariums, specimens are known to have grown to over 40 cm. Its natural base color is silver but with three brownish/red vertical stripes and red striations into the fins. The species may show red spotting and a blueish green dorsal overcast when mature and when aroused exhibits a black operculum spot. Characteristic of this species is an acute incision or notch above the nares (supraorbital indention). All true Orinoco Altum specimens show this trait, whereas commercial hybrids product of crosses to Pterophyllum scalare, that are occasionally performed by breeders to sell them as \Orinoco Altum\, may not exhibit the trait or it may appear in a lesser degree. The true wildcaught Orinoco Altum is among the most challenging among tropical fish to breed in captivity. Most Altum Angels are more frequently found in the well oxygenated, extremely soft waters of Upper and Middle Orinoco tributaries shed from the Guiana Shield Highlands, preferring a pH range between 4.5 to 5.8. These are very transparent blackwaters with almost nil conductivity. Temperature range in these waters is between 78 and 84 °F (26 and 29 °C). They are also found in the Atabapo River and Inirida River floodplain, down the Casiquiare and Guainía floodplain where the Rio Negro is born, before entering Brazilian territory. Unlike P. scalare (mentioned above) which prefer to spawn on the submerged leaves of plants and trees in the flooded rainforest, P. altum prefers to spawn on submerged roots and tree branches in a moderate water current. This species is recommended for intermediate to advanced aquarists due to the detailed maintenance it requires for proper health. Pterophyllum altum is the national fish of Venezuela and an image of the fish appears on some currency bills of that country.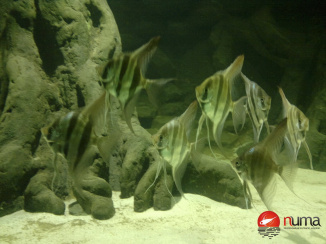 This product is temporarily out of stock
Related products
A seneye device monitors your fish tank to help ensure your fish thrive and your plants grow. The seneye device simply drop into your aquarium or pond and attach it to your PC, it's that easy. The seneye forecast engine analyses and interprets the data from the seneye device and processes this into valuable information which can be understood. The resulting information serves as a basis for predictions, alerts and actionable advice, which can be accessed via a host of different internet-enabled devices, including your web browser, iphone, ipad and android smartphones. Simply leave it in your pond or fish tank. The seneye device is designed to remain constantly submersed, the results from the tests are fed directly into the online seneye cloud where the results are analysed by our exclusive system.

119,00 €

Detail

Complete system for producing soft, high-purity water. Maximum output: 190 l per day at 25 °C and pressure of 4 bar. Output under normal operating conditions: 100–170 l per day at 10-15 °C and pressure of 3-6 bar. Retention rate:At least 95 %. Supplied ready for connection, incl. 3/4\ tap adapter (\washing machine adapter\). Simple to use

134,00 €

Detail
Other photos
More images not available.
Ask for products
Would you like to have more information about the product "Deep Angelfish"?
In this case fill in this form and we will be glad to answer on all your questions.
Find a better price?
Have you found better price on net than in our e-shop?
If yes, fill in this form. After our employee check that price we will give you information about the better price through your e-mail or phone. Otherwise we believe it is not only the price but also our approach to you and willingness to help you what makes the business important as well. We try to do our best to be professionals and to find better prices.
Comments (0)
No comment was added to this product.
Comments can be given only if you are the registered user.
Send my friend