Electric retractable piston 70 cm
Code: EP800_1
Availability:

to order

The 70 cm electric pull-out aluminum piston is used for opening the pier above shaft for gravity-fed filtration. Complete Plug & Play delivery.

✔ Comfortable lifting of up to 200 kg
✔ Piston self-locking force when extended to 150 kg
✔ Remote control with automatic stop
✔ Opening / closing speed: 30 sec
✔ Moment Torque: 2,000 N
✔ Power consumption: 55 W
✔ Operating temperature: -25 ° C ~ 65 ° C
✔ Protection class: IP54
✔ Length of closed piston: 87.5 cm, open piston: 157.5 cm
✔ Scope of delivery: piston, 2 fixing brackets, transformer 220V / 24V, remote control

You can view the application of the electric piston in the video at the bottom of the bar at 1:00 min.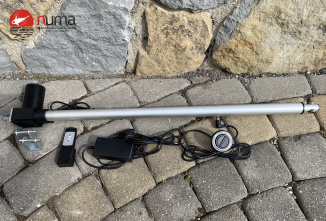 Videos
Ask for products
Would you like to have more information about the product "Electric retractable piston 70 cm"?
In this case fill in this form and we will be glad to answer on all your questions.
Find a better price?
Have you found better price on net than in our e-shop?
If yes, fill in this form. After our employee check that price we will give you information about the better price through your e-mail or phone. Otherwise we believe it is not only the price but also our approach to you and willingness to help you what makes the business important as well. We try to do our best to be professionals and to find better prices.
Comments (0)
No comment was added to this product.
Comments can be given only if you are the registered user.
Send my friend