Microbe-Lift Barley Straw Extract 1 l
Code: SC713
Availability:

In Stock

A Liquid Extract of Barley Straw Especially Helpful Where Bottom Drains Are Present an environmentally responsible, cost-efficient pond conditioner that is a clean & easy, natural & organic approach to a healthy pond environment. works by binding excessive nutrients that exist in natural ponds as a result of organic waste by-products. For centuries, barley straw has been used to bind nutrients and assist in maintaining clear water.
Ponds up to max: 10000 l
Weight: 1 kg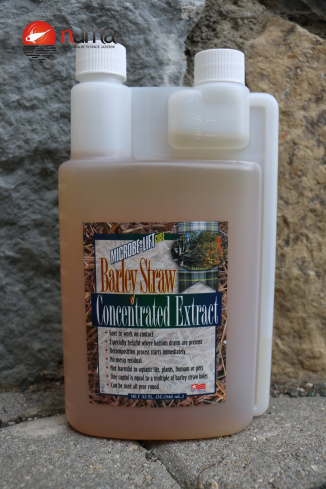 Related products
Microbe-Lift Clean & Clear is a special blend of beneficial bacteria that keeps ponds clean & clear. Contains also photosynthetic bacteria and is grown in the bottle in which it is sold, thanks to a unique process! Like solar panels and photoelectric cells, the photosynthetic bacteria in MICROBE-LIFT Clean & Clear use energy from the sun to drive natural biological processes that will keep your pond clear and sediment-free. Clean & Clear will also reduce the maintenance on your filter. Clean & Clear is the only pond clarifier on the market with photosynthetic bacteria. Clean & Clear contains more than 30 different, living, species of bacteria that can remove the organic waste in your pond.

33,00 €

Detail
Other photos
More images not available.
Ask for products
Would you like to have more information about the product "Microbe-Lift Barley Straw Extract 1 l"?
In this case fill in this form and we will be glad to answer on all your questions.
Find a better price?
Have you found better price on net than in our e-shop?
If yes, fill in this form. After our employee check that price we will give you information about the better price through your e-mail or phone. Otherwise we believe it is not only the price but also our approach to you and willingness to help you what makes the business important as well. We try to do our best to be professionals and to find better prices.
Comments (0)
No comment was added to this product.
Comments can be given only if you are the registered user.
Send my friend