Niigata KOI food Insect 1,5kg
Top
Code: NKFI1
Availability:

out of stock

Niigata KOI Food Insect 1,5 kg is a complete floating and insect meal containing feed with a high protein level to promote growth. Also, Niigata KOI Food Insect is 100% free of fish meal and fish oil, therefore highly sustainable. Fish meal has been replaced by insect meal. Furthermore, it contains astaxanthin to support the rich colors in your koi. The Niigata KOI Food Insect pellet has been produced in 3 different larvae shapes which stimulate the natural feeding pattern of the koi.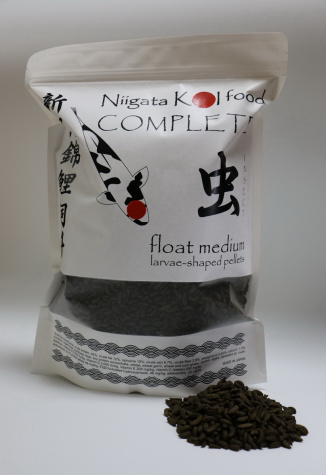 This product is temporarily out of stock
Related products
Japan's best selling water treatment product! Bio Factor VL will improve water quality and clarity. Better colour & lustre on your Koi, helps bone & cellular growth. Dosage: 50 gms per 10.000 litre pond water per week.

61,50 €

Detail

Canister for granules storage with checking window is made of durable and practical stainless steel.

16,50 €

Detail

Niigata KOI Food Silkworm Pupae are the highest quality silkworm cocoons grown in Japan where they call Kaiko Sanagi. It is a natural food for fast growth and excellent coloring of KOI carp. They contain easily digestible raw natural protein for fish, without dyes and preservatives.
Before feeding, we recommend soaking the dried pupae in warm water for 30 minutes to improve digestion and utilization of KOI proteins by carp.
We recommend feeding a maximum of 30% of the daily ration at a pond water temperature above 15 ° C.
Package: 3 liters

24,90 €

Detail
Ask for products
Would you like to have more information about the product "Niigata KOI food Insect 1,5kg"?
In this case fill in this form and we will be glad to answer on all your questions.
Find a better price?
Have you found better price on net than in our e-shop?
If yes, fill in this form. After our employee check that price we will give you information about the better price through your e-mail or phone. Otherwise we believe it is not only the price but also our approach to you and willingness to help you what makes the business important as well. We try to do our best to be professionals and to find better prices.
Comments (0)
No comment was added to this product.
Comments can be given only if you are the registered user.
Send my friend