OASE Stone Liner 120cm wide
Code: FOL0005_0004
Availability:

3 days

Pebble-coated liner for the edges of your pond, and for near-natural watercourse designs. The perfect solution for edging of lined ponds or also for installing a watercourse. he 0.5 mm thick, black PVC liner is treated with a coating of fine pebbles via a special technical process. Ideal for the natural transition from pond to garden. We always recommend using normal pond liner under the stone liner, and fixing the edges with pond liner adhesive.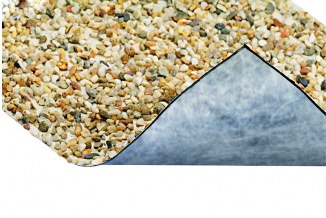 | Product name | | Availability | Price with VAT | | Watch |
| --- | --- | --- | --- | --- | --- |
| OASE Stone Liner 40cm wide | | In Stock | 20,00 €/m2 | | |
| OASE Stone Liner 100cm wide | | 3 days | 43,90 €/m2 | | |
| OASE Stone Liner 60cm wide | | In Stock | 28,70 €/m2 | | |
Related products
Adhesive for PVC liner. Content 1000 ml

50,36 €

Detail
Ask for products
Would you like to have more information about the product "OASE Stone Liner 120cm wide"?
In this case fill in this form and we will be glad to answer on all your questions.
Find a better price?
Have you found better price on net than in our e-shop?
If yes, fill in this form. After our employee check that price we will give you information about the better price through your e-mail or phone. Otherwise we believe it is not only the price but also our approach to you and willingness to help you what makes the business important as well. We try to do our best to be professionals and to find better prices.
Comments (0)
No comment was added to this product.
Comments can be given only if you are the registered user.
Send my friend