OASE SwimSkim 25
Code: 57384
Availability:

In Stock

Leaves, pollen or other algae nutrients get into pond water via the surface. OASE skimmers powerfully and effectively pull this debris from the surface into the collection basket. Thus the debris is removed from the pond eco-system before it stresses the pond. The result is clearly improved water quality and viewing depth through a reduced nutrient balance. Suitable for ponds with a surface of up to 25 m2. Powerful drive thanks to 2500 litre circulation pump. Including an injector that enriches the pond with oxygen. Fine foam for mechanical/biological filtration. Ice preventer function through water movement. Easy maintenance thanks to removable collection basket. Automatically adjusts to any water level.
Q max: 2500 l / hour.
Power consumption: 40 W
Dimensions: 332 x 297 x 263 mm
Weight: 5 kg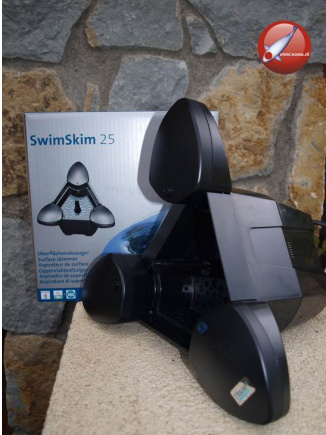 Related products
Spare Foam for SwimSkim 25

7,50 €

Detail

Spare rotor for Oase SwimSkim 25

24,95 €

Detail
Videos
Manual
Ask for products
Would you like to have more information about the product "OASE SwimSkim 25"?
In this case fill in this form and we will be glad to answer on all your questions.
Find a better price?
Have you found better price on net than in our e-shop?
If yes, fill in this form. After our employee check that price we will give you information about the better price through your e-mail or phone. Otherwise we believe it is not only the price but also our approach to you and willingness to help you what makes the business important as well. We try to do our best to be professionals and to find better prices.
Comments (0)
No comment was added to this product.
Comments can be given only if you are the registered user.
Send my friend