Pontec PondoSolar 600 Control
Code: 43325
Availability:

In Stock

The solar fountain set Pontec PondoSolar 600 Control is suitable for smaller garden ponds, fountains and water features without the need to connect to a power source.

The basis of the technology is a 7W solar panel, on which the sun\s rays fall and they are converted into electrical energy with a voltage of 12 V DC.
The set is functional during the day in sunlight and does not contain a battery.
The electricity produced by the solar panel serves as a source for the fountain pump, which is directly connected to the solar panel.
Set comes with hose connections and 4 different fountain effects. It also includes LED lighting and a comfortable remote control.
Q max: 600 l / hour.
Max. head height: 0.8 m
Power consumption: 7 W
Weight: 5 kg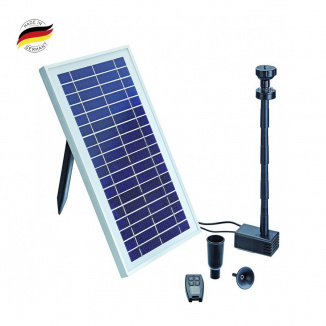 Related products
A bamboo water feature can be installed at the edge of a pond. H70 x 23 x Ř8 cm. The bamboo water cradle in the package contains a metal stand for sticking into the ground and a transparent tube (Ř9 mm x L80 cm). Without pump (recommended pump with a flow rate of 600 l/h).

66,00 €

Detail
Ask for products
Would you like to have more information about the product "Pontec PondoSolar 600 Control "?
In this case fill in this form and we will be glad to answer on all your questions.
Find a better price?
Have you found better price on net than in our e-shop?
If yes, fill in this form. After our employee check that price we will give you information about the better price through your e-mail or phone. Otherwise we believe it is not only the price but also our approach to you and willingness to help you what makes the business important as well. We try to do our best to be professionals and to find better prices.
Comments (0)
No comment was added to this product.
Comments can be given only if you are the registered user.
Send my friend