The Matcha ZENsuo Candle Classic Pot
Top
Code: ZEN-SUO_1
Availability:

In Stock

Inspired by Zen meditation and profound health benefits of matcha, the Matcha ZENsuo Candle Classic Pot is created to invigorate the senses and elevate cognitive fitness.

It helps aid in meditation and creating a refreshing atmosphere. Combined with the brain boosting benefits of matcha, it makes an effective energizing booster to optimize attention, memory and presence of mind.

Amazing Benefits:

We recommend this as an excellent company for meditation and aromatherapy. Use it for just 30 minutes for 9 consecutive days and feel the difference.

Doing so, you can reap its several benefits like:

✔ Improves Overall Wellness – Mentally & Physically
✔ Calms & Soothes the Nerves
✔ Increased Mental Agility
✔ Sharpens Focus & Memory
✔ Balances Hormones & Decreases Pre-menstrual Blues
✔ Supports Detoxification & Metabolic Rate

Effective combustion time: 15-20h.
The candle is made only with all natural ingredients like soybean wax and 100%pure matcha extracts.
Dimensions: 110 x 110 x 75 mm
Weight: 0.20 kg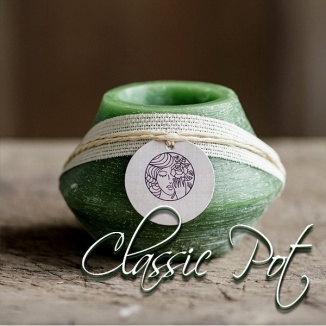 Related products
Product doesn't have related products.
Ask for products
Would you like to have more information about the product "The Matcha ZENsuo Candle Classic Pot"?
In this case fill in this form and we will be glad to answer on all your questions.
Find a better price?
Have you found better price on net than in our e-shop?
If yes, fill in this form. After our employee check that price we will give you information about the better price through your e-mail or phone. Otherwise we believe it is not only the price but also our approach to you and willingness to help you what makes the business important as well. We try to do our best to be professionals and to find better prices.
Comments (0)
No comment was added to this product.
Comments can be given only if you are the registered user.
Send my friend