White Line WL-3100 Water Smart Flow Meter
Verified
Code: 150068
Availability:

In Stock

The innovative White Line Water Smart Flow Meter allows targeted irrigation that is measured and mindful. The consumed water quantity can be read at any time on the large display and thereby controlled. With a single button for all functions, the Water Smart Flow Meter is easy to use. Until now, irrigation has been a matter of personal judgment and one\s form on the day. The Water Smart Flow Meter ensures that you have better control. From now on, you can water in a targeted, requirement-suitable and systematic way. This is good for the garden, the environment, and the wallet. The Water Smart Flow Meter is battery-operated and can be immediately connected to the tap, to a sprayer, a sprinkler or a pump. The robust and impact-proof Water Smart Flow Meter is simply clicked onto the Threaded Tap Connector or Standard Hose Connector and immediately supplies important data through active measurement. An integrated battery-level display secures precise operation. This innovative meter raises awareness of water consumption.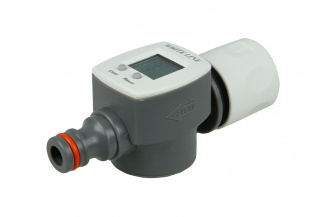 Related products
The Oase Dechlorinator is ideal for either new pond setups or well established koi ponds when you want to add fresh tap water. It will ensure your tap water is free of chlorine, chloramine and heavy metals making the water totally safe for your fish. Its simple to install with standard hose connectors (supplied) so there is no need for bucketing tap water and adding liquid dechlornator which can be sometimes time consuming. You can simply hook it up to your outside tap and leave it until the pond is full.

The Oase Dechlorinator is compact in size so its easy to store, it can filter a massive 200,000 litres of water before the unit has to be replaced. It has a maximum flowrate of 500lph so it will be fine with most households water pressure.

Oase Dechlorinator technical data:

Dimensions: 505 x 80 x 80mm
Inlet / outlet connections: 3/4\
Max flowrate: 500lph
Pressure output min: 0.5 bar
Pressure output max: 6 bar
Installation: dry or underwater
Filter volume: 200,000 ltrs

100,79 €

Detail

Self-tapping box Bradas WL-W3B20 with 1/2'' garden hose 20 m long. The drum is supplied, including the wall mounting kit (the holder is 180 ° swivel). From the holder, the drum can be easily removed and transferred. It can also serve as an extension point for your irrigation system. Automatic winding of the hose and locking to reach the desired length makes backing easier. The damping pad does not cause damaging the drum during auto-winding. At the inlet of the drum there is a 2 meter hose connection with a 1/2'' quick coupling with a STOP system.

137,88 €

Detail
Videos
Ask for products
Would you like to have more information about the product "White Line WL-3100 Water Smart Flow Meter"?
In this case fill in this form and we will be glad to answer on all your questions.
Find a better price?
Have you found better price on net than in our e-shop?
If yes, fill in this form. After our employee check that price we will give you information about the better price through your e-mail or phone. Otherwise we believe it is not only the price but also our approach to you and willingness to help you what makes the business important as well. We try to do our best to be professionals and to find better prices.
Comments (0)
No comment was added to this product.
Comments can be given only if you are the registered user.
Send my friend