Wooden Japanese Pencil Case
Code: PEN-CAS-W
Availability:

3 days

Wooden Japanese Pencil Case - pencil box is made of High-quality wooden material, with smooth surface, environmental-friendly, natural and durable to use. The box cover could be pulled or taken down for easy take and put pencils, the box is used for store pens, pencils, erasers and sharpener etc. It is lightweight and has a suitable size, very easy and convenient for you to carry and put in your schoolbag or handbags. It is not only a pencil box, but also a storage box, you also could use it to store your small items, like jewelry, accessories, small gifts and so on.
Dimensions: 195 x 56 x 40 mm
Weight: 0.1 kg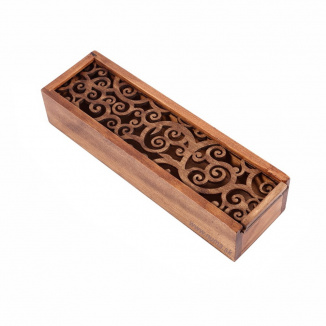 Related products
Round Japanese Hand Fan is an ideal gift for every woman as gift.

19,50 €

Detail
Ask for products
Would you like to have more information about the product "Wooden Japanese Pencil Case"?
In this case fill in this form and we will be glad to answer on all your questions.
Find a better price?
Have you found better price on net than in our e-shop?
If yes, fill in this form. After our employee check that price we will give you information about the better price through your e-mail or phone. Otherwise we believe it is not only the price but also our approach to you and willingness to help you what makes the business important as well. We try to do our best to be professionals and to find better prices.
Comments (0)
No comment was added to this product.
Comments can be given only if you are the registered user.
Send my friend