Microbe-Lift Spring Cleaner
Top
Verified
Code: SC780
Availability:

In Stock

CLEANER had been made especially to accelerate the deterioration of leafs, small branches and other dead organic residue. Spring is the season to clean and revitalize your pond after the cold and hard winter months. A season procedure for a good organic balance in ponds. The cellulase enzymes are the key to the deterioration of organic residue. It is very import to prevent waste build up on the bottom of your pond. The dead organic residue will turn to compost, which is an assault to your filter system and lowers the quality of your water. Helps to jump start your pond in the spring. Reduces buildup of dead leaves and residual organic sediment. Pre-measured, easy to handle and cost effective. Natural nontoxic and non caustic. Contents: (8) 2 oz. water soluble packets (57 gms) of cellulose enzymes and hyper cellulose producing bacteria.
Fish pounds up to max: 20000 l
Weight: 0.456 kg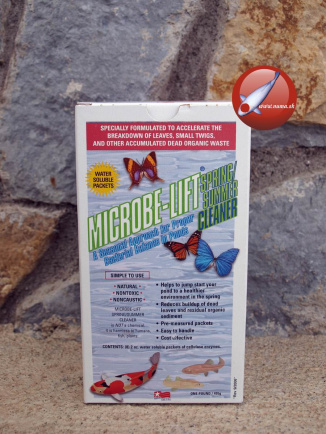 Related products
With its mixture of easily digestible ingredients, including wheat germ and probiotic bacteria, Saki-Hikari Multi Season provides outstanding digestibility even at very low temperatures. It prevents weight loss and maintains constant growth, even under conditions of low metabolic rate and reduced appetite. This food also contains many nutrients and carotene for colour enhancement. Hikari Saki helps make your filter more effective - a very important requirement for breeding and raising Koi successfully is clear, clean water. The environment the Koi are kept in can radically impact their growth and development. Hikari Saki is highly digestible and it\s improved assimilation can significantly reduce the volume of waste excreted by your Koi. Additionally, the waste decomposition continues after excretion thereby allowing your filter more readily handle the waste load. This can result in reduced filter maintenance and an improved environment for your fish. Hikari Saki can improve resistance to disease - Hikari has always believed the use of potentially dangerous medicines or immune boosters should be avoided and that prevention is always the best course of action. The complete nutritional package in Hikari Saki and the vitamin and mineral components, including stabilized vitamin C, help reduce stress and thereby stress induced illness while promoting good bacteria balance in the intestinal tract. Test Results - The rapid decomposition of the Koi\s waste drastically reduced clogging of the filter media thereby reducing the frequency of regular maintenance while improving filtering effectiveness. Overall improvement of the water condition and clarity was visibility noticeable.

69,50 €

Detail

Hikari Wheat-Germ Sinking Formula an easily assimilated diet promoting improved health, growth and fertility. An excellent choice when superior digestibility is desirable or metabolism is slowing. Hikari® Wheat-Germ Formula is a highly digestible, daily diet, for feeding Koi and other pond fish in cooler water temperatures. The use of the inner most portion of the wheat germ kernel with added vitamins and minerals offers higher levels of nutrient package your koi can readily utilize to helps support immune system health.

99,90 €

Detail
Videos
Ask for products
Would you like to have more information about the product "Microbe-Lift Spring Cleaner"?
In this case fill in this form and we will be glad to answer on all your questions.
Find a better price?
Have you found better price on net than in our e-shop?
If yes, fill in this form. After our employee check that price we will give you information about the better price through your e-mail or phone. Otherwise we believe it is not only the price but also our approach to you and willingness to help you what makes the business important as well. We try to do our best to be professionals and to find better prices.
Comments (0)
No comment was added to this product.
Comments can be given only if you are the registered user.
Send my friend