Zippy transport vat
Promo
Verified
Code: ZIPPY
Availability:

out of stock

The Zippy transporting System is manufactured to fit your vehicle you will never need to worry about polythene bags and boxes again. The 'zippable' cover keeps in both fish and water regardless of terrain and enables easy access. The Zippy is assembled to fit to Škoda Octavia Hatch without folding down the rear row of seats. So you can take 5 people at the same time as fish. In the Octavia trunk there is an excellent access from above for fish loading to the Zippy transport vat.

Moving fish can often be a time consuming and difficult experience for you and a stressful time for your fish. Using the Zippy is a simple way to improve the whole process. Whether it is taking koi to an annual show, bringing new purchases home or just transporting them to your new house, Zippy makes the whole process simple.

The Zippy can be assembled in minutes and is ready to use. Half fill with the water that the fish are currently swimming in and prepare for a stress free move. Once all of the fish are loaded and the `zippable` cover is closed they can enjoy the luxury of being transported safely in a greater volume of water than any boxed fish could. Your fish cannot damage themselves against the liner unlike rigid tanks. Coupled with this they are not in a sealed environment which means there are high levels of gaseous exchange. There is no need to worry about where to obtain heavy and cumbersome oxygen cylinders. When using the air pump connected to the vehicle`s 12 Volt supply, the aeration delivered from the USB Air Stone will ensure constant high levels of oxygen together with carbon dioxide and ammonia being driven off.

The Zippy can be even manufactured to your specification to suit your needs, so for a quotation please contact us with the measurements to fit your vehicle.
Dimensions: 900 x 800 x 490 mm
Weight: 11 kg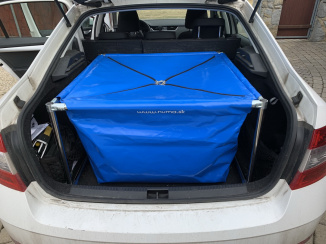 This product is temporarily out of stock
Related products
Universal powder disinfectant based on active chlorine. Use for disinfecting tools that comes into contact with your KOI. Package 1 kg.

15,00 €

Detail

USB AIR STONE is a portable Oxygen Pump suitable for pluging in a car when transporting fish. There is no sound during work. Can use up to 50 hours with 10000 mAh power bank.

29,50 €

Detail

A pressure bottle filled with 5 liters of medical oxygen at a pressure of 200 bar, which corresponds to approx. 1100 liters of oxygen at normal pressure. Price including valve, excluding filling.

197,50 €

Detail
Other photos
More images not available.
Videos
Ask for products
Would you like to have more information about the product "Zippy transport vat"?
In this case fill in this form and we will be glad to answer on all your questions.
Find a better price?
Have you found better price on net than in our e-shop?
If yes, fill in this form. After our employee check that price we will give you information about the better price through your e-mail or phone. Otherwise we believe it is not only the price but also our approach to you and willingness to help you what makes the business important as well. We try to do our best to be professionals and to find better prices.
Comments (0)
No comment was added to this product.
Comments can be given only if you are the registered user.
Send my friend